The 2013 National Jamboree Collectors Items
The Cascade Pacific Council 2013 Jamboree contingent, in collaboration with Dark Horse Comics artists, presents the Cascade Pacific Council 2013 National Jamboree Collectors Patch Set.
The complete set contains 33 pieces: 14 JSP's (Jamboree Shoulder Patch), 1 Center piece rotor, 1 10" Back Patch, 1 OA Flap, 1 Pocket Flap, 14 Pins, 1 Trading Towel. Ghosting, unusual stitch directions, Scout law, hidden text, glow in the dark thread and unique bordering spiff up the set. And – a free Collectors Brochure describing the patch characters, artists and insight into the vast array of Cascade Pacific Council programs and properties.
The Dark Horse character lineup includes: HellBoy; The Mask; Axe Cop; Wexter; Abe Sapien; Lord Baltimore; Ghost; Aria T'Loak; Johann Kraus; Lobster Johnson; X; Usagi Yojimbo; Spyboy; Concrete.
Below are items available to purchase in recognition of the 2013 National Jamboree, happening at the new Summit Bechtel Reserve located in West Virginia. Click here to view the Summit
---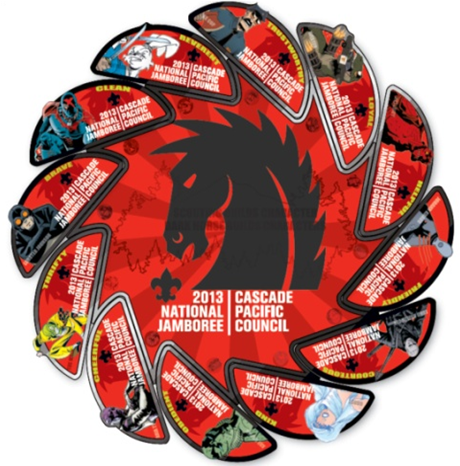 13 Piece Jamboree Shoulder Patch and Jacket Patch Collectors Set

This 13 piece JSP and Jacket Patch Collectors Set contains all the Troop, Crew, Staff and Council JSP's. Align each JSP in with the ghosted image of the troop JSP character on the center rotor patch to complete a display approximately 15 inches in diameter.
Cost: $75.00
Item number: CP1
Qty Available: Explicit Numbers
Dimensions: Approx. 15" Diameter
---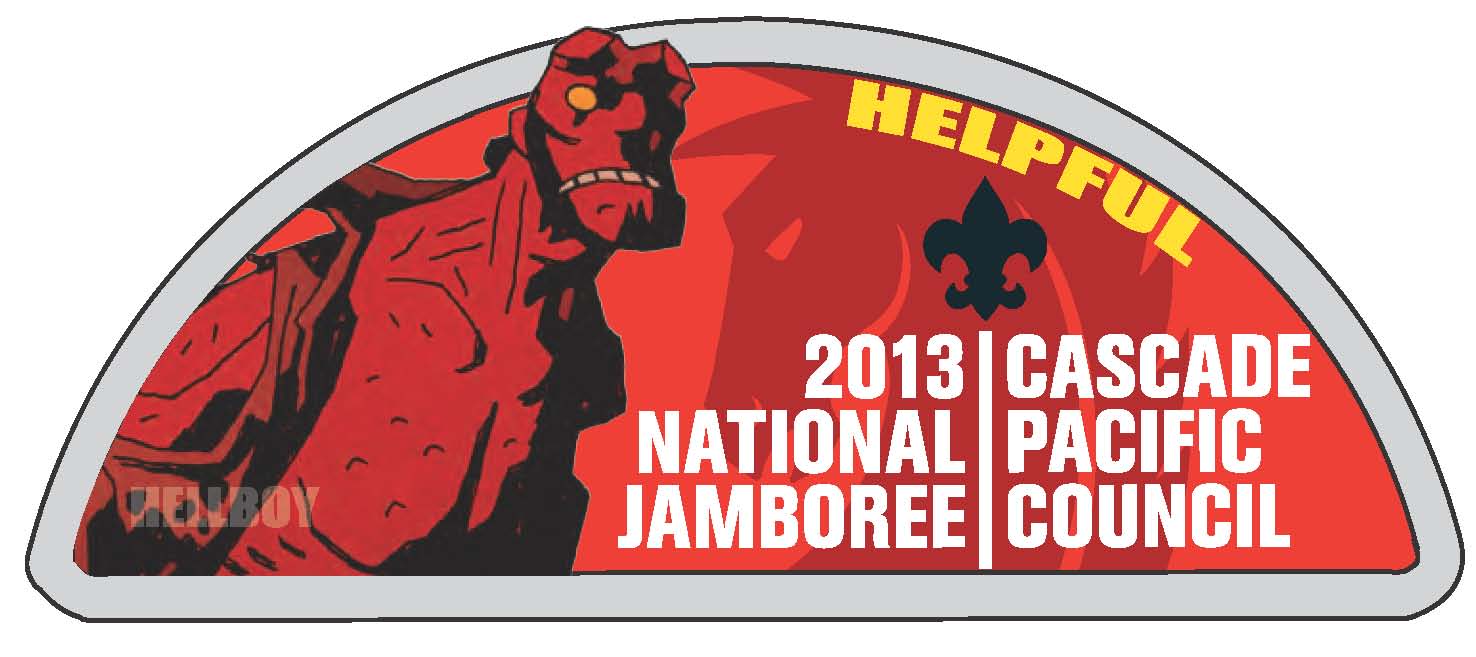 Three Piece Staff and OA Lodge
Collectors Set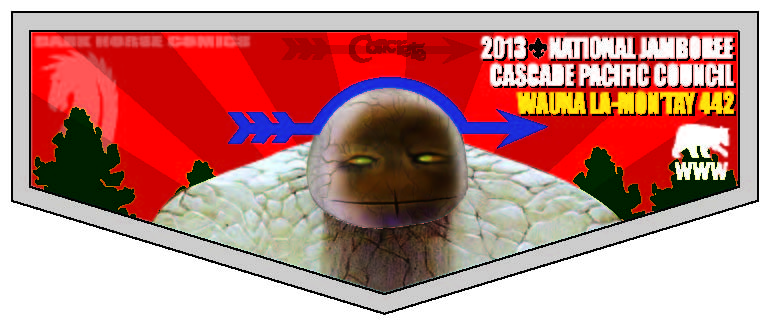 This 3 piece set include Concrete holding the BSA International Activity badge. Concrete is sporting an OA party arrow on his head because… he's made of concrete and it not would go through his head.
It includes the Staff Hell Boy JSP to round out the set.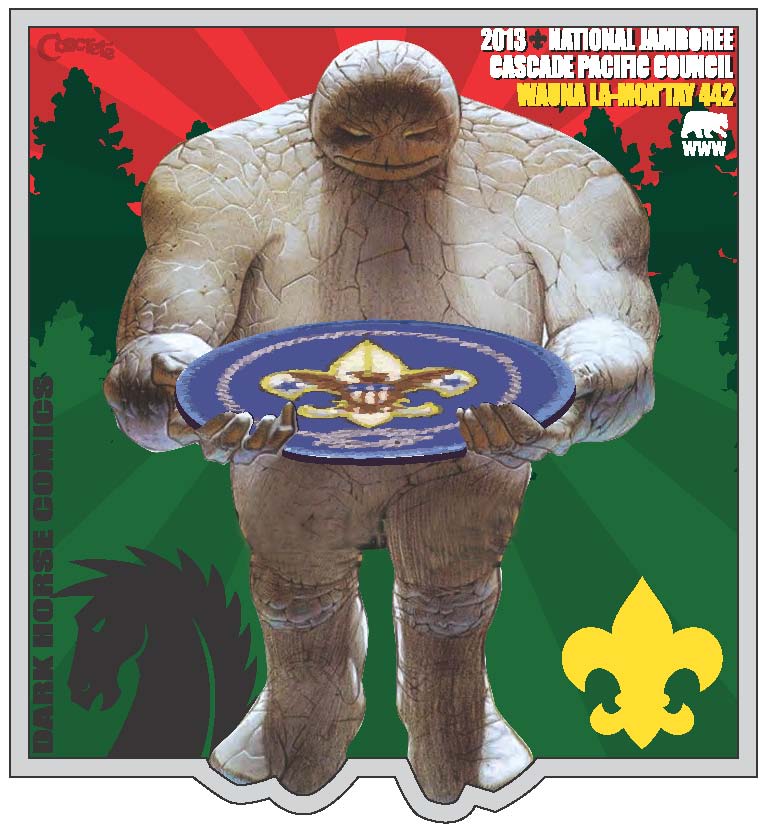 Cost: $25.00
Order Number: CP2
Qty Available: Explicit Numbers
---
2013 Jamboree Collectors Pin Set:
Includes 14 Pins
This 14 Collector Pin set includes headshots of all 14 JSP characters (12 characters on the rotor round plus Eagle JSP Spy Boy and Pocket/OA Flap Concrete) on pins. The 12 characters head shots are also ghosted onto the center piece rotor to help align the patches to the rotor.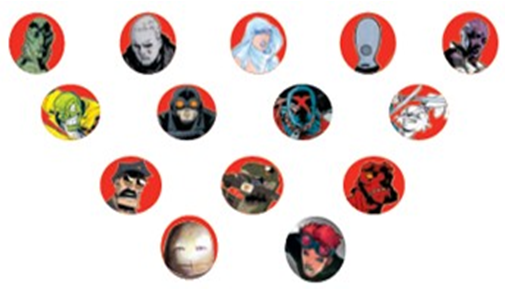 Cost: $30.00
Order Number: CP3
Qty Available: Explicit Numbers
---
Special Eagle Scout
Jamboree Shoulder Patch
The Eagle JSP… Spy Boy is only available to the youth and adults who are Eagle Scouts attending the 2013 Jamboree. This is your chance to own a Collectors version of this unique JSP recognizing the herculean task of becoming – and being – an Eagle Scout.
Cost: $10.00
Order Number: CP4
Qty Available: Explicit Numbers
---

Contingent Jacket Patch Set:
ONLY AVAILABLE HERE

You don't want to miss out on getting this piece of history!

Cost:$25.00
Order Number: CP5
Qty Available: Explicit Numbers
Dimensions: Approx. 10.5" Diameter
This is a single patch approximately 10 inches in diameter with the Jamboree participant black border that consolidates the 13 piece JSP and Jacket Patch Collector set described in C1 above. This patch is perfect for placing on the back of a jacket or presenting in a frame. It's the only patch being offered to collectors with the participant black border.
---
Special Collectors
Trading Beach Towel
This Trading Towel depicts the participants JSP's with Rotor, Individual Troop JSP's, Pocket & OA Flap with Eagle Scout JSP, and a Dark Horse Logo & QR Code that gives you instant access to Dark Horse Comics content. Perfect for hanging on the wall, showering (yeah, right) or for getting down on your hands and knees to trade patches.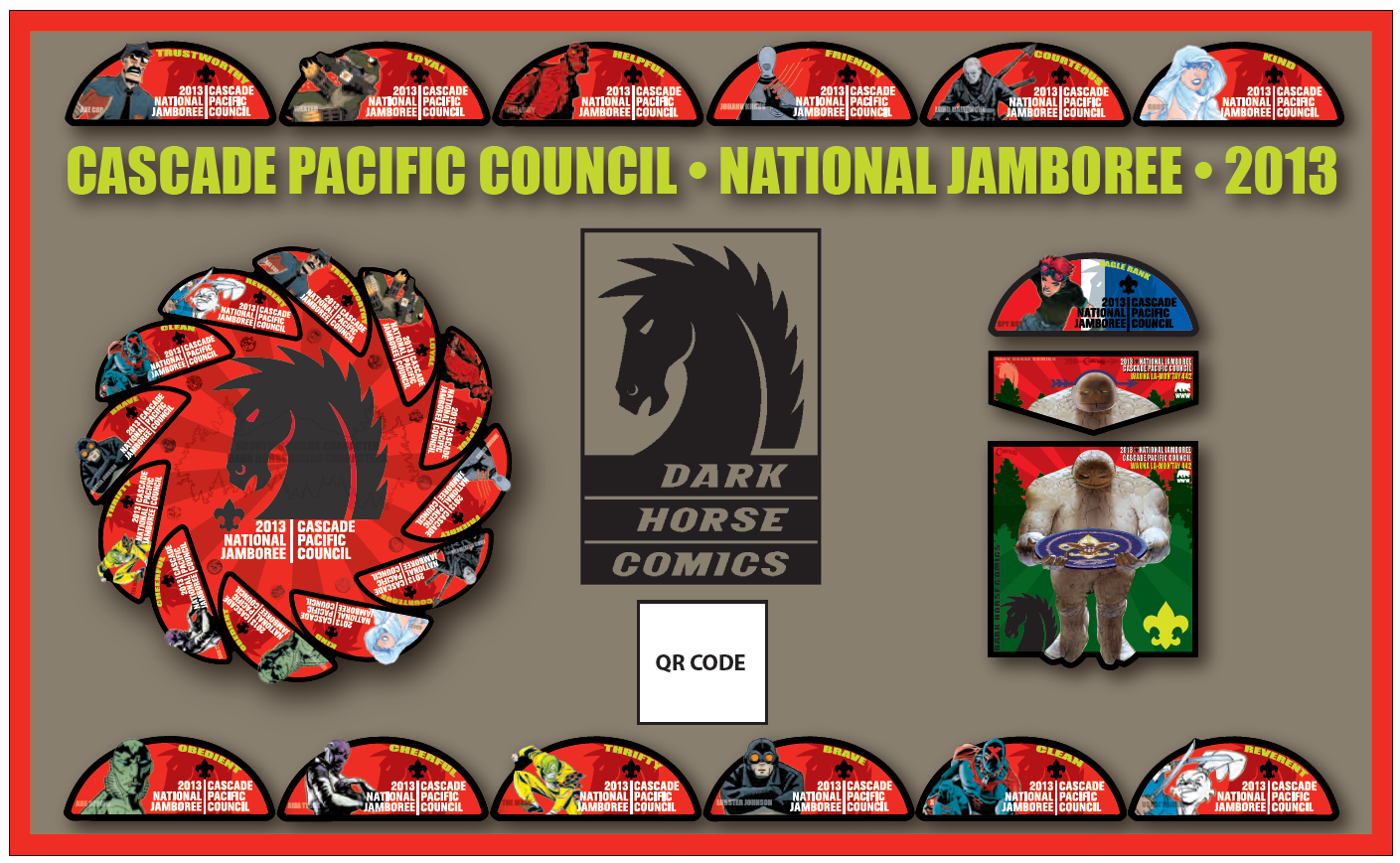 Cost: $25.00
Order Number: CP6
Qty Available: Explicit Numbers

---