Mud Cubs: Third Annual Cubtaculair Muddy Event
Held at Cub World for all Cub Scouts and their families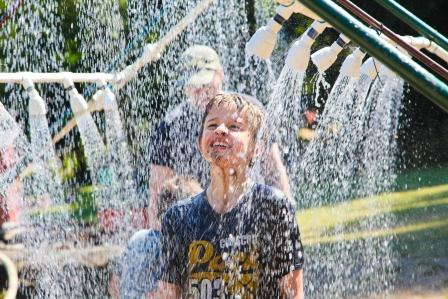 Are you ready to get muddy? This fun-filled family event is a chance for everyone to play in the mud. The event will be filled with muddy and watery activities; it will be set up in a challenge course type design. Some events you'll be digging in the mud; other events you'll be crawling through the mud. You can get wet on our 100-foot waterslide and wash off in the Cub Car Wash. There will be something for everyone.
Registration is set up in one hour heats with six groups each. Each group is limited to 25 participants, Adults and Youth. This is to help with back log at different stations. Please plan to check in at registration 30 minutes prior to your assigned time. There will be "non-muddy" activities to do while you are waiting for your time slot.
Attire will get muddy! It is suggested to wear old clothes and shoes and bring a towel, a change of clothes, and a garbage bag to put it all in. You may want to wear a swimsuit underneath your clothes for easier clean up. The Cub Car Wash should get you mostly clean. For those that would like to take a shower, the showerhouse will be available to use.
Lunch will be available for an additional $5 per person. We will be eating outside to minimize the amount of mud and water in the dining hall (we don't want anyone to slip or fall on the concrete!). Lunch will consist of hot dogs, chips, a drink and dessert.
Questions may be directed to the camping department at camping@cpcbsa.org or 503.225.5706.